Dr.Shakya Musli Gold Extra Power Capsule:
About this item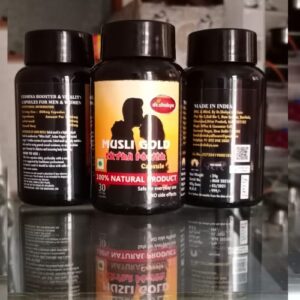 Dr.shakya Life Care Safed Dr.Shakya Musli Gold Extra Power Capsule  may help to nourish each and every tissue of the body.
Dr.shakya Safed Musli 100 % Pure, natural and packed in most hygienical environment.
HealtMeds Safed Musali Extracts for men may act as a great energy booster, may help to improve a physical weakness.
For men and women
No Fillers, Binders or Common Allergens.
Brand dr.shakya
Ingredients Safed Musli and Kaunch Beej
Package Information Bottle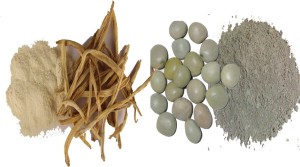 Important information
Ingredients: Safed Musli and Kaunch Beej
Legal Disclaimer
This product is not intended to diagnose, treat, cure, or prevent any diseases. Please always read the label, warnings, and directions before using or consuming this product. The results of this product will vary from person to person. Actual product packaging and materials may contain more and different information than what is shown on the website.
Product description
Safed Musli capsules are crafted using the roots of the Safed Musli plant. These roots are known to have several medicinal properties and can help in providing the right nutrients to the body on a daily basis. Safed Musli may help in healthy weight gain by helping increase the appetite. It may also help to increase the performance levels and enable you to get more done with more energy and power. Safed Musli also has properties that could benefit the health of your joints and muscles and may also help in regaining flexibility for stiff muscles and joints. The various nutrients of Safed Musli are known to help you keep going even on a busy day and could also avoid the tired and lethargic feeling that one usually faces due to the lack of a healthy diet. It is also a potent herb that could help enhance the performance and give you more confidence. Safed Musli is a good source of daily dietary fiber, protein and carbohydrates.
Package Dimensions : 10.2 x 7.2 x 7.2 cm; 60 Grams
Date First Available : 01 March 2021
Manufacturer : Dr.shakya
Item part number : Natural Herbs
Manufacturer : Dr.shakya Life Care
Item Weight : 24 g
Net Quantity : 30.00 count
Benefits: Highly beneficial in providing vigor and vitality. Also beneficial in body building and increasing body strength
Dosage: an individual should consume 1 capsule 30 minutes after breakfast and 1 after dinner with lukewarm water or lukewarm milk.